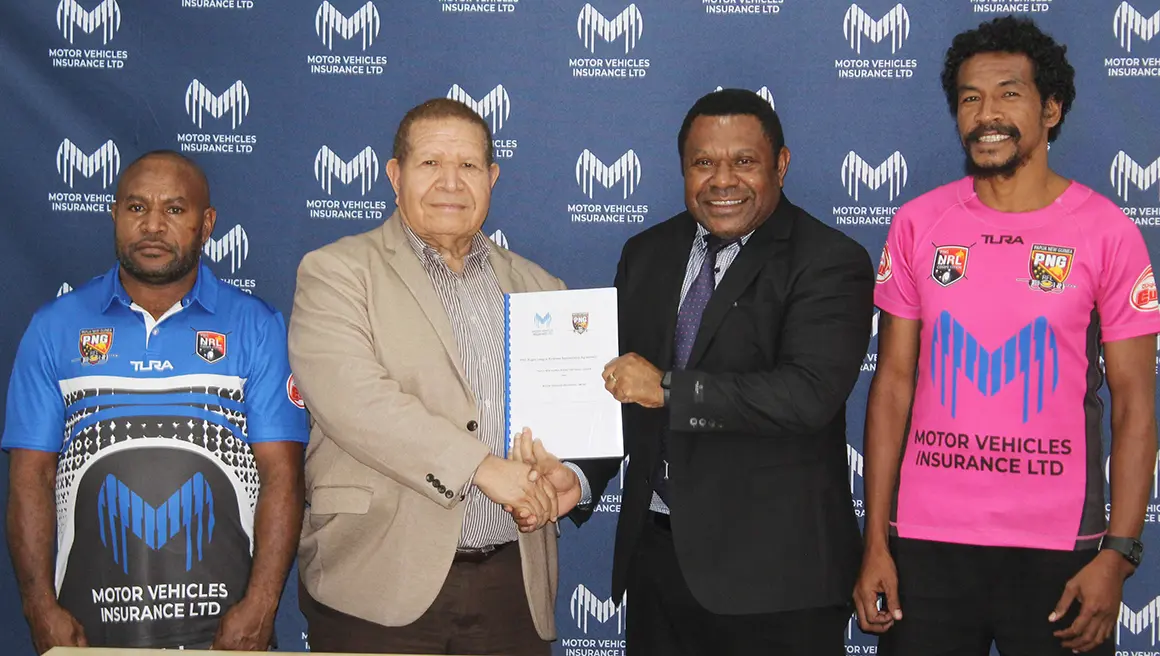 MVIL Chief Executive Officer Mr Michael Makap and PNGRFL Chief Executive Officer Mr Stanley Hondina showing the signed agreement while flanked by referees Paul Wani and Hanua Rupa.
Motor Vehicles Insurance Limited (MVIL) is the PNG Rugby Football League (PNGRFL) Referees' Naming Rights Sponsor for this year, 2023.
This was announced during the signing of an agreement between MVIL and PNGRFL today at the MVIL Headquarters. The total sponsorship package is K500,000.00.
MVIL is not new to national rugby league having collaborated with the PNGRFL since 2019 as the 'Naming Rights' sponsor of the Digicel Cup Referees and again in 2020 and 2021.
Under this agreement, MVIL's investment for match officials will cover all PNGRFL tournaments nationwide – provincial championships, confederate championships, national championships, school championships and affiliates competitions (20 plus associations).
We are pleased to enter into this agreement to empower referees to officiate in confidence and without fear or favour, and also in capacity building through training and accreditation. This is very important considering the changes taking place to modernize the code.
This we hope will have a positive rippling effect in the development of the game and players at all levels in the country according to the PNGRFL's Strategic Plan.
The MVIL branding and message promoted by the referees on their uniforms are a reminder of MVIL's commitment of service to vehicle owners and road-users – that is to provide Compulsory Third Party (CTP) insurance for vehicle owners and compensation to claimants for death or injuries arising from motor vehicle accidents.
We look forward to a positive partnership and positive outcome of this partnership.
For further information, please contact the Communications Team on Telephone: 325 4600 or Email: communications@mvil.com.pg.
Authorised for release by:
Mr. Michael Makap
Chief Executive Officer
Read More