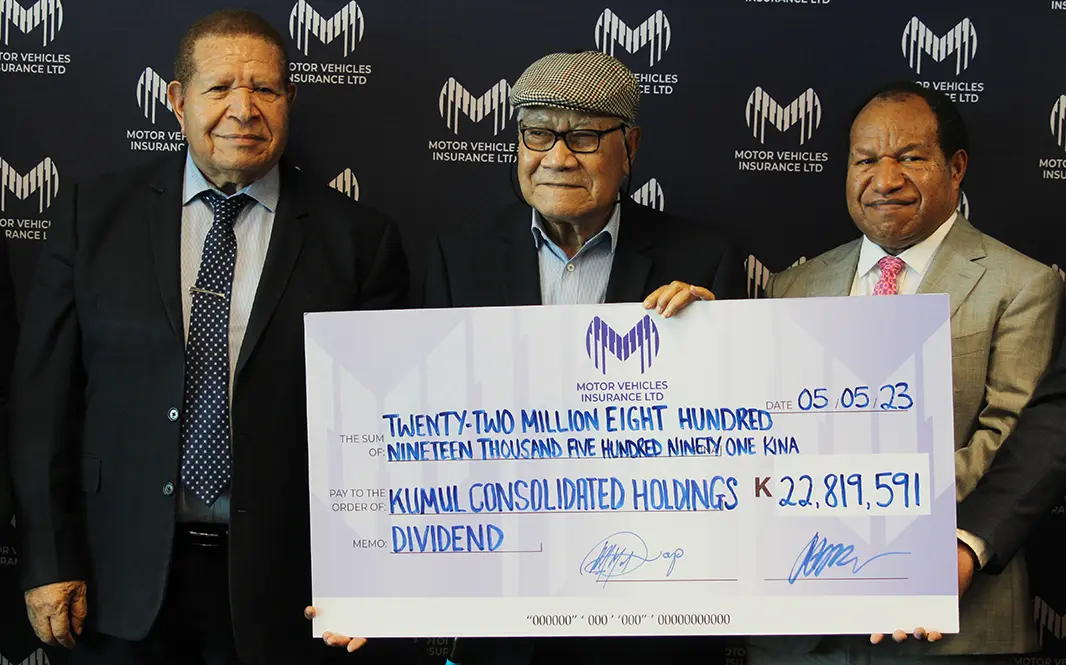 MVIL Chief Executive Officer Mr Michael Makap (left) and MVIL Board Chairman Mr Eno Daera with State Enterprises Minister Hon. William Duma posing with the dummy cheque.
The Board of Directors of Motor Vehicles Insurance Limited (MVIL), meeting on 26 April 2023 declared the distribution of interim dividend at K0.68/share, an increase of 14.10% from the interim dividend paid for the 2021 financial year.
The dividend declared is in line with the shareholder dividend policy in consideration of the company achieving its performance targets and reporting profit.
In 2022, the company paid an interim dividend of K0.50/share and a final dividend of K0.60/share, totaling K1.10/share for the financial year 2021.
Today, the MVIL Board of Directors and Chief Executive Officer Mr. Michael Makap presented the cheque of K22.82 million to KCH Managing Director Professor David Kavanamur in the presence of the Minister for State Enterprises Hon. William Duma at the KCH Board Room, Level 3, Harbour City East, in Port Moresby.
MVIL continues to prioritize on improving its services throughout the country. Notable key interventions including regional flagship customer service centres in Port Moresby and Lae, the automation of business processes and decentralization of Claims functions in the provinces.
For further information, please contact the Communications Team on Telephone: 325 4600 or Email: communications@mvil.com.pg.
Authorised for release by:
Mr. Michael Makap
Chief Executive Officer
Read More