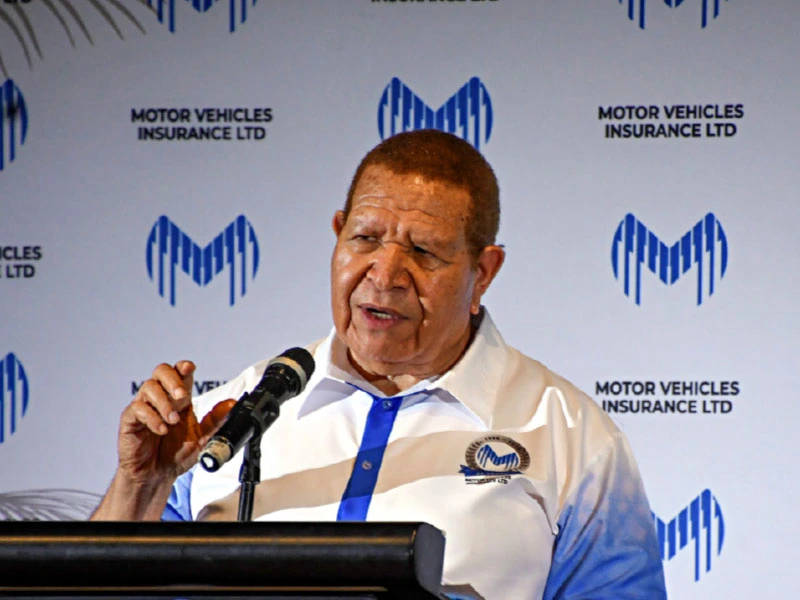 MVIL Chief Executive Officer Mr Michael Makap speaking at MVIL's Silver Jubilee dinner ball.
Motor Vehicles Insurance Limited (MVIL) has reaffirmed their commitment to serve with the launching of their new look website and slogan – Serving comes first!
This was revealed during the celebration of the company's 25th Silver Jubilee celebration in Port Moresby last week.
The celebration saw MVIL, since operating as a company in 1998, introduces its first ever slogan and officially launched the MVIL website which will go live by June 1st.
MVIL has never had an official company slogan in the past, although as part of their community obligation, have worked with a number of stakeholders and adopted a few themes when supporting and advocating road safety initiatives.
Chief executive officer Mr Michael Makap, said the slogan resonates well with the company's direction and focus – which is to be corporate oriented and customer centric, or as others would say – customer focus.
The website will provide information for those who want to know more about MVIL, the company's history, unique value and more including simple steps on how you can access your CTP insurance certificates and vehicle registration.
He reflected on the journey of MVIL as a young and vibrant insurance company has had over the last 25 years, as well as unveiling MVIL's future plans going forward.
He also acknowledged the MVIL Board of Directors, both past and present and the current under the chairmanship of Mr Eno Daera, MBE.
"I am pleased to say that our Board consist of a good mix of directors who understand their fiduciary responsibilities and the demarcation between their role and the role of management," Mr Makap said.
From 1974 to 1997, the company operated as a Trust for 23 years before it was renamed Motor Vehicles Insurance (PNG) Trust Limited as a consequence of it being registered as a company under the Companies Act of 1997.
The following year in 1998, the company was incorporated as a separate legal entity and became what is known today as Motor Vehicles Insurance Limited or MVIL for short.
State Enterprise Minister Hon. William Duma, who was present to officiate at the celebration, spoke highly of MVIL as one of the top performing SOE in the country.
MVIL staff in Mt Hagen, Lae, Kokopo, and Goroka joined in the celebration via live stream, as well as MVIL key partners, Board of Directors and MVIL staff in Port Moresby.
This article was first published by Post-Courier on 29 May 2023.
Read More